New Construction
Servicing the Cedar Creek Lake area, Ackley Custom Homes builds beautiful custom homes designed to satisfy exquisite tastes. We take pride in the quality of our work: We use high quality labor and top-of-the-line building products for fantastic results. Each home is an original work that speaks to its owner's distinctive tastes.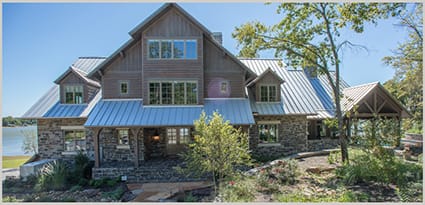 Remodels
When you're ready to bring your home into a new era, we're here to make it as easy as pie. Remodeling can be stressful, but at Ackley, we've taken into consideration every reason why you might be hesitant to finally get started; we've streamlined our process to make your remodel as efficient and painless as possible. Also, our contractors are thoroughly vetted and bonded to ensure that we treat your home as if it were our own.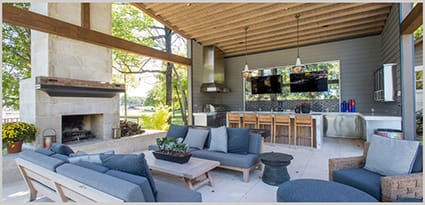 Outdoor Living
Bring your home's exterior back to life. Whether you want to build a beautiful deck from which to gloat over your envious tomato garden or install a swimming pool, dock, or fire pit, we can make your outdoor dreams a reality. We'll build a fantastic outdoor living space, so you can take advantage of the wonderful weather and enjoy your property in all its glory.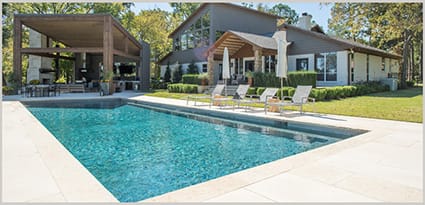 Estimate

Prepare

Build

Cleanup
The first stage of any job is meeting the homeowner where we'll discuss your project's scope, the types of materials, and other important details. Depending on the size of the job this step can be fairly extensive (when building a custom home) to fairly quick (when remodeling a bathroom).

Not only will we use this time to discuss the details of the project, this is a time where contractor and homeowner become well-acquainted and we can provide you with a deeper understanding of our values and expertise.
After we've planned out the project, we can begin with the actual preparations, like pulling all the permits, having an architect sign off on any drawings or designs, etc.

On certain projects, we can also begin ordering special products that we may have to custom order, like a specialized bathtub, or any number of building products that aren't readily available. This is to be expected when building for custom homes.
This is the lengthiest part of the job and involves many process-dependent factors. We're in constant contact with homeowners during this time and provide regular updates so you're never in the dark. We understand that homeowners are eager to see their home complete and ready for move-in, so we are quick to communicate any and all setbacks that sometimes arise when dealing with multiple vendors and the elements.

Building is where our skills really shine and it's the most rewarding part of any project—seeing all our hard work start to come together on another beautiful project. A rewarding time for builders; an exciting time for homeowners!
Often overlooked by inexperienced contractors is the cleanup stage. The goal of this stage is to make sure everything is perfect. First and foremost, we check for imperfections with the finished project. After we're satisfied with the results, we begin with the physical cleanup, another extremely important part of the project, especially with home remodeling jobs. With remodels, we want to ensure that the home is in better shape than it was before we arrived.

But the cleanup stage involves a lot more than just physical cleanup, it also involves working with homeowners to see if they have any problems with the finished project. We're committed to customer satisfaction and before the job is finished we want to make sure you're happy with the work we've provided.
We've used Bill Ackley Construction on a couple of different projects over the last 10 years. Our first experience with them was on the construction of a custom home & guest house on Cedar Creek Lake. Once we had our plans, the interaction with Bill Ackley was seamless. Not only did Bill offer some great ideas, he worked well with the architect and constantly communicated with us every step of the way. We were so impressed with the final product that we used Bill & his team again to remodel a ranch house outside of Athens. While this project was much smaller than the lake house, the results were great. We've come to consider Bill a close friend and will definitely use him again if there's ever a 3rd project around the lake.

Bevans Family
I love the blend between the rustic feel of a ranch house and the outdoor feel of the lake and land coupled with the sophistication and interest of the different stones and tiles throughout the baths, bars, and kitchen — all personally selected by Sharon. Our favorite aspect of the design was the blend of scale and sophistication with the intimacy and warmth of materials and space. It serves the two of us wonderfully for an intimate weekend together as well as accommodating 30 sleepover guests for a weekend reunion, not to mention Thanksgiving, Christmas, and holidays.

Van Cleave Family
We asked Bill to help us remodel our home on Cedar Creek Lake. He did a simply outstanding job. His ability to quickly understand what we wanted to accomplish, help us design a workable plan to deliver our dream and then seamlessly manage the project is the best I have ever seen. He kept us apprised of progress, provided insights to help us make tweaks along the way and never surprised us with a bill we weren't expecting. We were able to leave the project completely under his control with no need for us to be there to make sure everything was getting done to the highest quality standards. We would highly recommend Bill and his team to anyone building or remodeling an existing home.

Mark & Tammy Keiffer